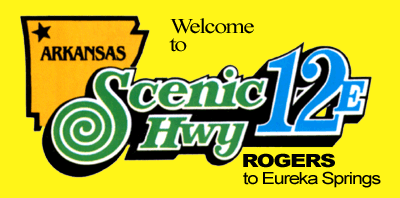 Discover Scenic Highway 12!
Stretching through the beautiful Northwest Arkansas Ozarks is Scenic Highway 12, extending from Highway 71, through Historic Downtown Rogers, east along the south side of Beaver Lake and connecting with Highway 23 into Eureka Springs. Traveling this route is a sight seeing experience where you will find some of the friendliest people and unspoiled forests.
Enjoy the scenic views and 28,000 acres of Beaver Lake with swimming beaches, water skiing, fishing, boating, scuba diving or just relaxing along the shoreline. Visit the only grist mill in the state of Arkansas or explore a living cavern.